Rizk Casino Review Update – As of November 2021, we no longer recommend that UK players join Rizk. You can view our list below to play at a top online casino UK as an alternative.
---
In our Rizk Casino Review, we take a closer look at what kind of gambling site it is.
Is Rizk actually a risk? Or is it legit?
Well, the name suggests the former, but their credential suggests the later. Let's dive in and take a closer look.
1. Is Rizk legit? Here's what we think:
Rizk claim that they are "Probably the best online casino UK".
But that isn't saying much…
Rizk casino was launched in 2016 by the Gaming Innovation Group. But, in 2020, it was sold to Betsson Group, a very large, incredibly well-known company online gambling organization.
Betsson Group is a publicly-traded company, meaning their stock is bought and sold on the stock market. As with all public companies, this means there is a greater degree of transparency for the company's financials. And they cannot really systematically screw over their customers.
Betsson Group recently had a winning spree with awards in 2020. In particular, they won the 'socially responsible casino of the year' award at the SBC Awards 2020: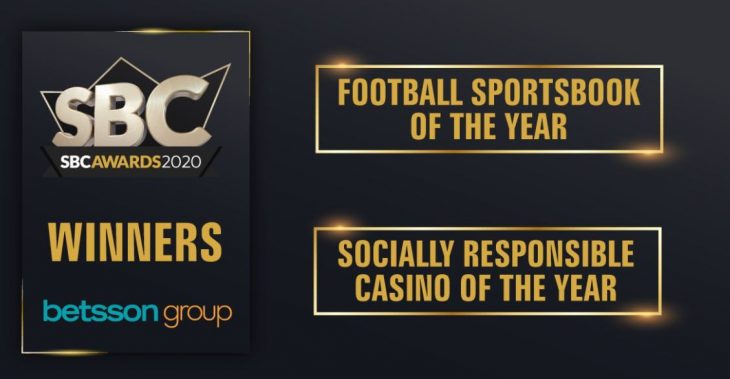 Together these awards tell us that Rizk is owned by a prestigious company.
Moreover, Rizk has a gambling license from the United Kingdom Gambling Commission (UKGC). Such licenses are not easy to obtain, and casinos have to show that they operate at incredibly high standards to get one. Without one, casinos cannot operate within the UK market.
2. Game selection at Rizk (what can you play?)
Rizk first started as a slots-only casino, but soon developed their roster of games to be more encompassing. Included in their line-up is a sportsbook, called Rizk Sports, which means you can bet on all your favorite sports alongside your favorite slots.
In addition to this, NetEnt and Evolution gaming both provide Rizk with live casino games. These include roulette (with lots of different types, e.g. immersive roulette, double ball roulette, and lightning roulette), blackjack, Deal or No Deal, baccarat, and more.
3. Rizk bonuses and free spins
As for April 2021, new UK players will no longer be able to get a Rizk welcome bonus.
Obviously this isn't great. If it's a dealbreaker then you can choose an alternative casino for free spins on registration no deposit UK. If you are thinking of making a deposit then the best first deposit bonus casino UK is a good place to look.
For existing players, Rizk may run promotions throughout the year. However, all players join their loyalty scheme as a standard. Every time you play for real money, this fills up your progress bar. Once filled completely, you get to spin the Wheel of Rizk again for a reward with no wagering. This can be done over and over again – no limit.
4. Payments (does Rizk actually payout?)
Casinos should be trying their best to accommodate players. One way for them to do this is by accepting a wide array of banking methods. At Rizk, they've got most of the major brands for UK players: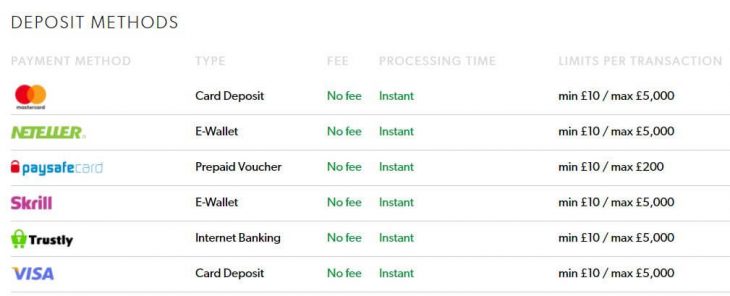 Although not shown here, Rizk also accepts PayPal in the UK. This is one of the most popular casino payment methods in the country. The minimum deposit amount is £10 and no fees are charged to do so.
But if you win – will you actually get paid!?
Yes, as long as you entered your information correctly when signing up and can provide the necessary documents. UK casinos are required to check all withdrawal requests before they are approved. This can take a while. However, as long as you abided by the terms and conditions while playing, you will get the money paid to your account.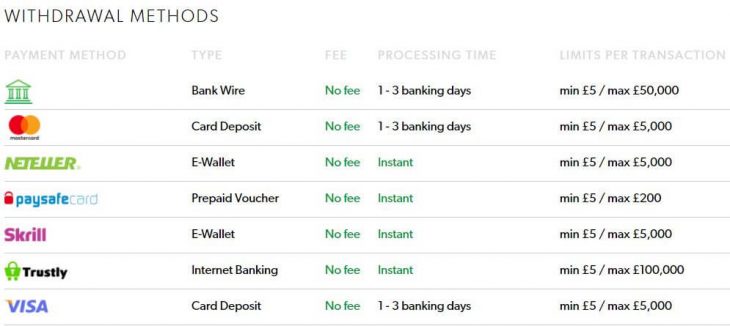 These are the withdrawal methods you can use at Rizk. Once a withdrawal has been approved, the time it will take to receive your money is based on the "Processing Time". As you can see from the image above, Rizk is an instant withdrawal casino UK with a few methods offering instant processing times.
The minimum withdrawal for all methods is £5 – which is pretty low compared with other sites (most are £10 if not £20). They also do not charge any transaction fees which is good.
As with all UK casinos, any withdrawal request cannot be reversed. However, Rizk had this feature well before it was a mandatory requirement after players requested it. A great example of how they constantly try to make their experience better.
5. What do people think of Rizk?
What is going on on the web… 
If we take a look at the Rizk Trustpilot page, we can see that they're not doing so great when it comes to consumer reviews. They currently have a 'poor' rating of 1.9 stars out of 5:

In addition to this, once we take a closer look at the percentage breakdowns, we can see that nearly three quarters (72%) of users had a 'bad' experience at the site:

The sum of all positive reviews, i.e. 'excellent' and 'great' reviews, is also a mere 18%. However, you should bear in mind a couple of things about this Rizk rating.
First of all, consumer reviews are mostly negative. This tends to give a biased overall rating towards negative. This is because the majority of reviews are left by customers with a complaint, not by customers who are generally happy.  In other words, people with good things to say don't leave reviews as often.
Second, the sample size that the rating is drawn from is very small – currently around 200 reviews. This small sample size means that the 'poor' rating isn't particularly representative of the site. Thousands of people use Rizk each day so a score based on 200 people is a tiny percentage of even weekly users.
But what are people actually annoyed about?
Many customers appear to be complaining about the Rizk verification process: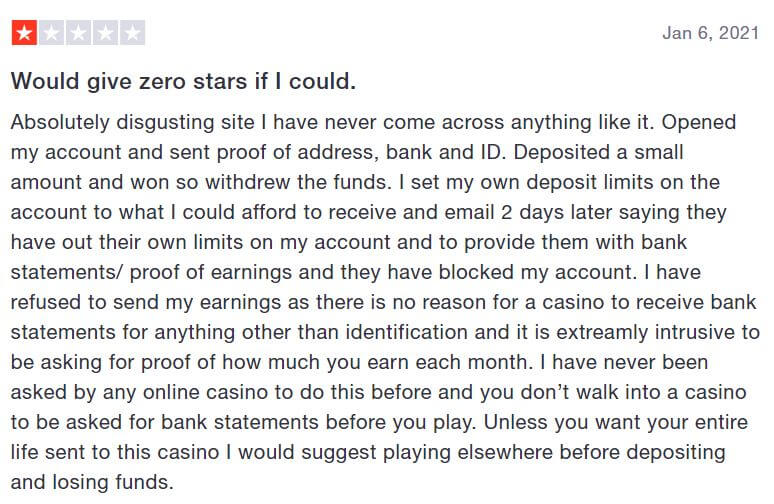 Another complaint in a similar vein:

One player wasn't so lucky:

In terms of slow withdrawals, this is a wide problem, not just at Rizk. As mentioned above, UK gambling sites must verify withdrawals before they are approved. This can take a long time. It can also require you to send a lot of documents – including bank statements, proof of income, and other sensitive information. It might feel like they are doing it deliberately. However, they are just fulfilling their obligations. All sites on Gamblermaster have these issues, and it's not always there fault.
In terms of players not winning anything, this isn't guaranteed unfortunately. Casino games are games of chance. They also have a house edge that gives the casino an advantage (as is standard practice). Therefore, you can never rely on winning while playing.
Although Rizk's rating here is not great, you will find that pretty much all casino TrustPilot ratings are low. The only exception is MrQ which has managed to build a good rating here (see our MrQ Casino review for more info).
Rizk Casino review summary (overall, very good)
Overall, Rizk is owned by Betsson Group – a very large brand that has won numerous, customer-focused awards over the years.
They've got rid of UK welcome bonuses though which is a huge shame (previously they had one of the best online casino bonuses in the UK).